Dr. Lorraine Gudas, Director
Dr. David Scheinberg, Co-Director
The faculty of Weill Cornell Medical College and the Sloan-Kettering Institute are collaborating on a training grant in cancer pharmacology. The collaboration consists of an integrated set of training activities for PhD students and postdoctoral fellows. The strength and diversity of the 21 faculty member participants in the training grant provide opportunities for research in a variety of different areas, such as:
The development of new therapeutic agents (through organic synthesis, monoclonal antibody technology, differentiation therapy) and screening of new compounds.
Analysis of molecular mechanisms by which some drugs cause apoptosis.
Research on the control of side effects generated from the current treatment modalities, such as the use of growth factors like G-CSF to reduce complications associated with bone marrow toxicity.
Strategies for overcoming drug resistance.
Mechanisms by which dioxin and environmental pollutants cause cancer.
About the Program
This program provides students and fellows with a broader understanding of the interrelationships between research on the basic mechanisms of drug action and drug development and clinical issues. In this way, both clinicians and basic scientists will be better prepared to carry out research to prevent or treat cancer.
Features of our Program
The Ph.D. program consists of:
Course work, including a graduate course in cancer pharmacology.
Three lab rotations.
An admission to candidacy exam.
Thesis research.
The training grant sponsors a separate seminar series devoted to the area of cancer pharmacology and therapeutics. Students and fellows present their research in an annual 2-day pharmacology program retreat. Fellows attend a weekly journal club, take courses in cancer pharmacology, and present a formal seminar in the Cancer Pharmacology Seminar Series.
Information from the External Advisory Meeting (3-25-16)
Information from the External Advisory Meeting (3-7-17)
Information from the External Advisory Meeting (3-29-18)
Prior Years-Postdoctoral Trainees - Cancer Pharmacology Training Grant
Front: Dr. Anthony Saviola (Buck/Levin lab), Dr. Leonid Dubrovsky (Scheinberg lab), Dr. Corinne Foley (Tan lab), Dr. Leiping Fu (Nanus lab), Dr. Brian Pickering, (Jaffrey Lab), Dr. Katsuhiro Kita, (Giannakakou lab) Dr. Anthony Olarerin-George (Jaffrey lab) NOT SHOWN: Dr. John Knapp (Danishefsky lab). July 29, 2015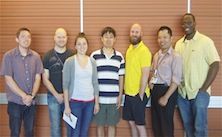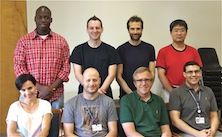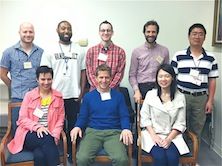 Contact
Dr. Lorraine Gudas, Director
Department of Pharmacology
Weill Cornell Medical College
1300 York Avenue
New York, NY 10065
Fax: (212) 746-6250
lic2008@med.cornell.edu